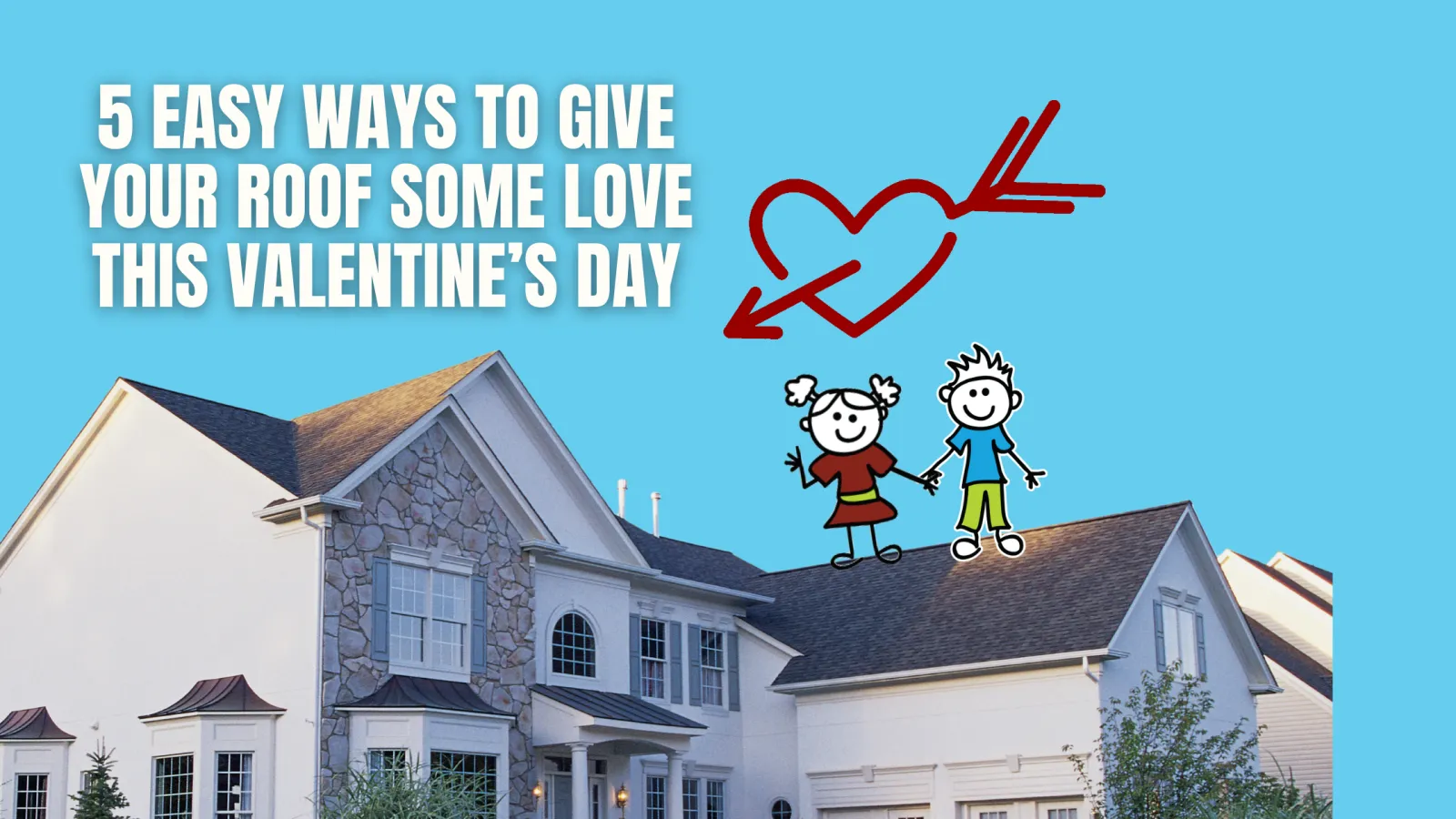 Your roof is your home's backbone and it needs some love every now and then. You may easily forget about how essential the health of your roof is to keep your home a retreat from the outside world.
Your roof deserves a little TLC this Valentine's Day too. Check out our five easy roof maintenance tips for giving your roof some love this Valentine's Day — many of these can be done as quickly as ordering flowers for your Valentine.

Check Your Gutters
Your gutters and rain spouts are meant to direct rainwater away from your house. If they're damaged, loose, or full of debris, they won't be able to do their job properly.
Learning how to check your gutters can be quick and easy. If your gutters look loose or they are starting to pull away from your house, you can schedule a free inspection to get them checked out to make sure your roof is in good condition.
If you can't remember the last time your gutters were cleaned out, it's time to schedule one. These cleanouts should happen at least once a year or more, depending on how much rain you get. Removing any leaves, sticks, and other debris blocking rainwater from flowing is essential for taking care of your roof.

Take a Look at Your Shingles
You never want to go out for some romantic stargazing on your roof and get stuck on a nail! Or have your Valentine see your embarrassing, damaged shingles.
The most common problems with shingles are curling, stains, cracking, and blistering. Moss, algae, and mold could be a concern with weather changes. As the temperatures fluctuate, these growths can take over. They can easily be scrubbed off and deterred with products containing copper and zinc. If these growths have taken root, known as streaking, it can greatly damage the integrity of your roof. A roofing company can quickly manage these growths with regular maintenance and roof inspections.
Many people are surprised to learn that these problems do not always require total replacement. Sometimes a skilled roofer can fix these issues easily. But the only way to know the extent of these problems and their solutions is by scheduling a roof inspection.
Check Your Flashing
Any — and all — vents, chimneys, skylights, and exhaust fans are prone to leaks. Flashing is the thin, shiny metal material surrounding vents, chimneys, and fans. Flashing is meant to prevent rainwater from getting in through the cracks.
If your flashing is beginning to look rusted or corroded, has holes in it, or seems loose, it needs to be addressed with a professional roofing company. Flashing is often in hard-to-reach areas that can be dangerous. Never put yourself at risk while checking flashing. Scheduling a free roof inspection is the best way to see how your flashing is doing.

Look in Your Attic
In addition to looking at your roof outside, you should also look in your attic. Wherever you go up to your attic to get your Valentine's Day decorations, take a few minutes to look at the ceiling. Check for any spots of daylight, water stains, rotting, and weak spots. If you see evidence of critters or pests, these can also affect the longevity of your roof. These indicators are a good way of determining the health of your roof.
A professional roof inspector will identify signs of trouble that go unnoticed by the untrained eye. Getting a roof inspection gives you the peace of mind of knowing that your home is safe.

Schedule a Free Roof Inspection
All roofs need a little love and care sometimes. Enlisting the help of a professional roofing company into your home's regular maintenance can prevent major damage from happening to your roof. A professional roof inspector will be able to spot any internal and external problems with your roof to make sure your home stays in great condition. Your Valentine will be impressed that you can talk about your roof so intensely they may even get a bit jealous.
Scheduling a roof inspection is quicker than picking out your Valentine's favorite candy! During your video inspection, we can easily show you what is happening on your roof and go over your options for repairs and maintenance.
Plus, your free video roof inspections can be done completely digitally — with a one-day install and clean-up — so we don't interfere with your romantic date. Schedule your free inspection by calling Roof it Forward at 888-411-9310. We are available 24 hours a day to serve you!
A lasting roof is an investment in your home and happiness. Make sure your roof gets a little attention this Valentine's Day by calling Roof it Forward now.