Commercial
Coating Systems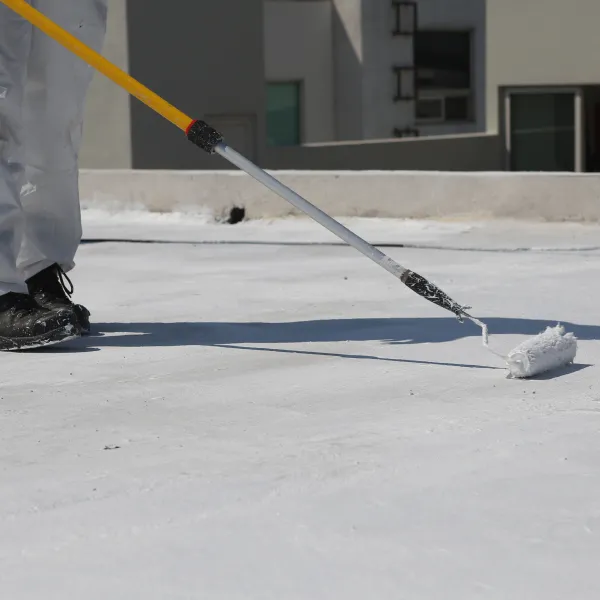 Roof It Forward is one of only five roofing companies in the state of Georgia that are GAF Master Elite Certified for commercial coatings. If your business's roof has experienced damage or wear and tear, don't replace your building's roof and wait for TPO or EPDM materials that are not readily available in the market right now. It's time to get a cost-effective, energy-efficient commercial roof coating. Benefits include:
Roof coating materials are much easier to obtain

Coating systems can easily fix any leaks in your roof and prevent other leaks from occurring

Save money on repairs and costs because the business will most likely not have to shut down while the roof replacement is underway

Our commercial coating services come with 10, 15, or 20-year Extended Warranty options backed by the GAF

Takes half the time of a normal commercial roof job, with no demo required.
Get a free roof inspection from Roof It Forward to see if a commercial roof coating would work for you.

Commercial Coating Services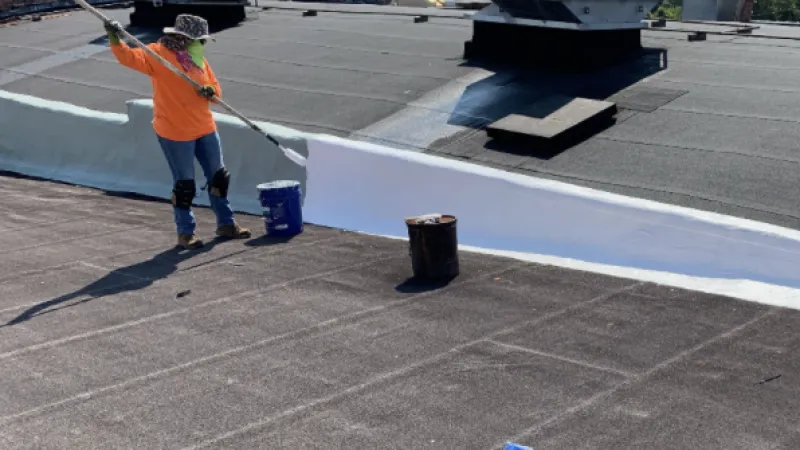 Liquid Applied Roofing Solutions can greatly extend the life of your commercial building's roof. The roofing solution eliminates most of the potential failure points that arise from low sloped roofs, increasing LEED® points and energy savings while lowering environmental impact.
Get In Touch With Your Professional Contractor
Benefits of Commercial Coating
The primary benefit of commercial roof coating systems is that they are an extremely cost-effective alternative to a roof replacement. It can assist you in getting the most out of your roof without having to replace it.
There are several other benefits:
Non-disruptive: Commercial coating is a noninvasive solution to fixing your roof so your business can continue to run while it's being applied.

Waterproofing: No more worrying about leaks! Heavy rain and pooling water will remain on your roof with the help of the fluid applied membrane roof.

Heat Reflection: A reflective roof directs solar energy away from the roof, keeping your building cooler on the inside.

Energy Efficiency: A cooler roof reduces the burden on your HVAC units, saving you money on utilities and repairs.

Lower Maintenance Costs: With a coated roof, you will not need as many future repairs.
Best Commercial Roof Coating Options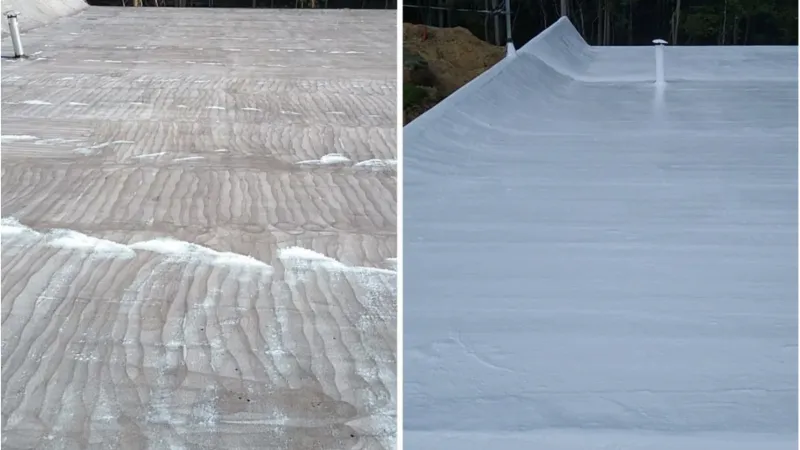 The best commercial roofing option depends on many variables, like your local climate, your budget, your roofing needs, and more. Our professionals at Roof It Forward have your best interests in mind and want to help you choose the best roof coating system for your building.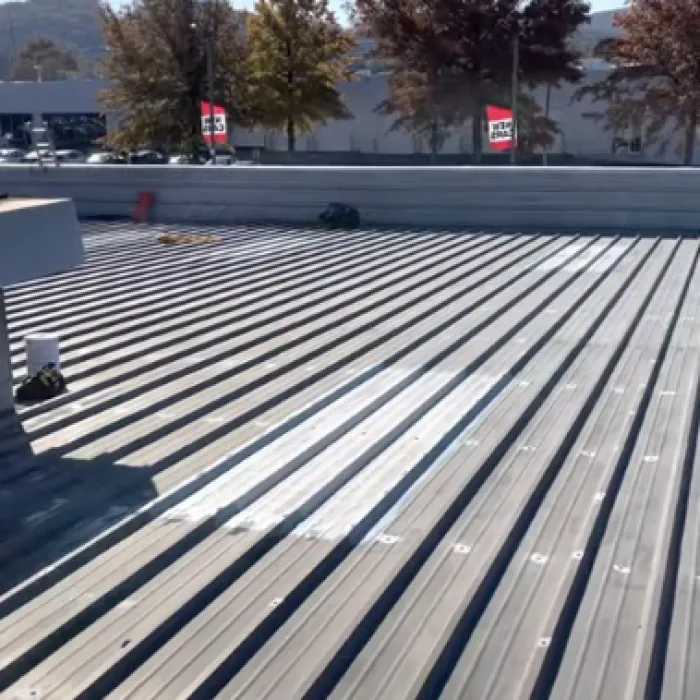 The Cobb County Toyota Story
See the Process
ARAC Roof It Forward Director of Commercial Sales, Michael Blanton, gives daily narratives, starting with day 3.
Prep work
Pressure wash
Butter grades sealed - bolts and screws
Temperature discussion
Seal skylights
Screws around the perimeter sealed in
Wrap penetrations
Vertical seams sealed
Horizontal seam sealed using a fabric mesh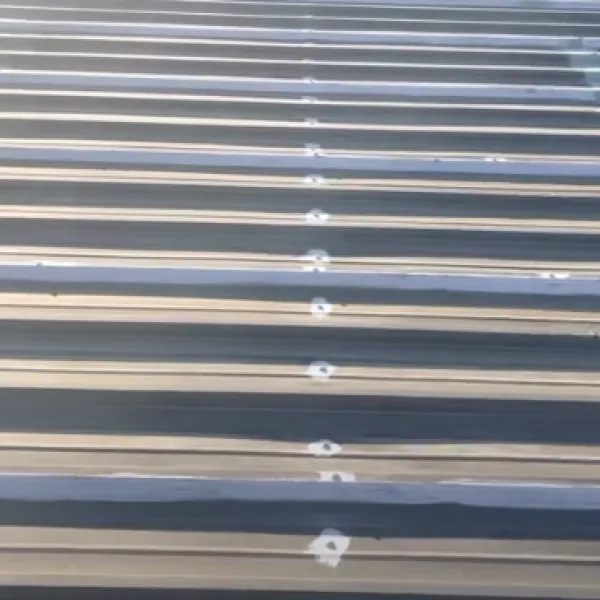 "Greening in a Roof"
Day 4
Work prior to applying the topcoat
Fabric mesh details
Foundation coat applied twice
Watertight!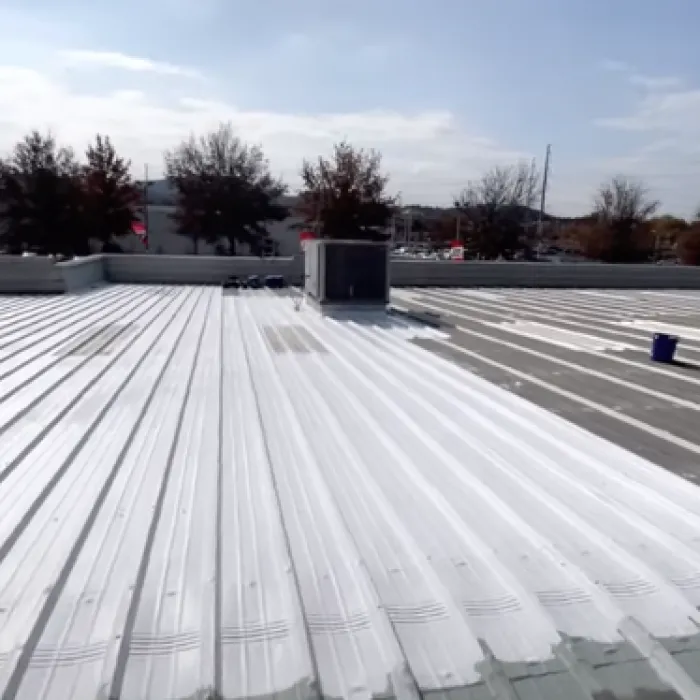 GAF Hydrostop Coating Process
Day 5
Two coats
Energy savings due to indoor lower temps
Paint skylights red for safety identification purposes
"Greened In"
Day 6
Detailed explanation about the GAF coating process for the TPO roof and the metal roof
Foundation coat wrinkle-free
Topcoat remaining work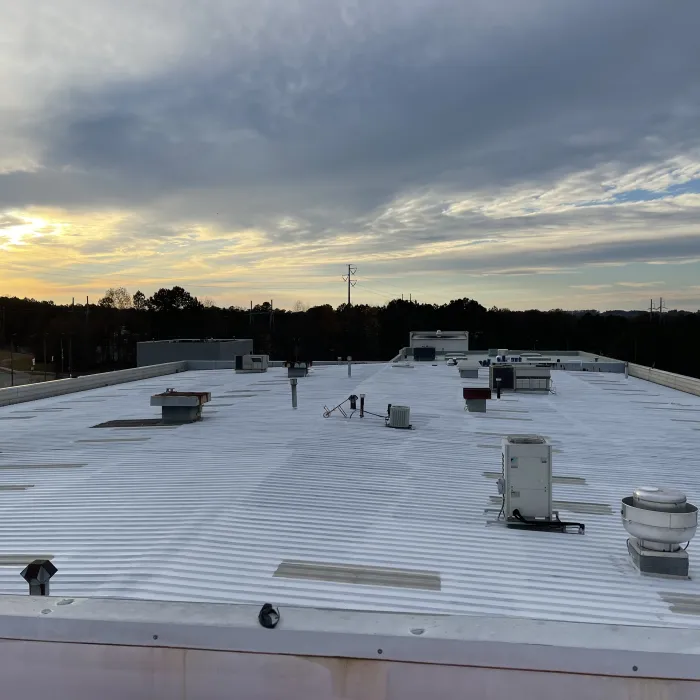 Finished Metal Roof Coating Project
Most Common Types of Commercial Roof Coating
The most common types of roof coatings are silicone and acrylic-based, but there are also asphalt and polyurethane coatings.
Silicone coatings are best for high-UV areas where a reflective roof can be extremely helpful. This type of roof coating can also be used in areas where there is a lot of rainfall and the roof is normally wet with pooled water.

Acrylic water-based coatings are also great for high UV ray environments. Many special versions are compatible with other substrates.


Asphalt coatings are most effective when applied on top of other asphalt substrates. There are black and aluminized options. The black asphalt coatings work best in cold weather with frequent precipitation. Aluminized coatings are best for a sunny location where a reflective roof is best to keep the building cooler.

Polyurethane coatings have two types, aromatic and aliphatic. Aromas are less UV-stable and aliphatic are very UV-stable. These coatings have high abrasion resistance, making them best for hail-prone areas and where a roof experiences a lot of roof traffic.

Get Your Commercial Coating Services Started With a Free Inspection
Roof It Forward prides itself on its high-quality roofing products and excellent customer service. If your commercial building is in need of roof repair, consider our commercial coating services. By scheduling a free roof inspection, our roofing professionals can see if a roof coating is the best option for your roof. Utilizing a roof coating can easily add 10 to 15 years of life to your roof for a lower cost than total replacement. Don't wait to schedule; your roof will thank you!
Proudly Serving Seven Metropolitan Areas