Atlanta
Commercial Roofing Contractors
Roof It Forward has the knowledge and experience to handle any commercial roofing job. Whether you need commercial roof repair or replacement, our professionals specialize in helping you enjoy a long-lasting roof for your business. As one of Atlanta's trusted commercial roofers, we've helped many developers and building managers.
For over 15 years Atlanta business owners have turned to us for commercial roof repair and replacements. We have been accredited by several organizations, such as our A+ rating with Better Business Bureau, and we dedicate ourselves to providing unmatched customer service. See what over 900 satisfied customers have to say about our roofing services on our Google Business Page! Plus, we have lots of additional reviews on Angi and Nextdoor.
Roof It Forward's expert technicians are rigorously trained for either an installation or a repair. We stand by our work. All jobs — no matter how big or small — come with a long-lasting warranty.
Get the ball rolling on your service by contacting us for a free video roof inspection! You can reach us 24/7 over the phone at 770-675-7650 or by filling out our online form.
We can't wait to get started on your project!
Get In Touch With An Atlanta Commercial Roofing Contractor
Types of Roofs We Replace in Atlanta
Need commercial roofing for your Atlanta business? We have experience repairing or replacing every type of commercial roof, including but not limited to: retail, industrial, healthcare, agricultural, government facilities, and more.
Roof It Forward has relationships with realtors, property managers, and caretakers to find the best roofing solution for your property.
Choosing the best roofing material for your commercial property is crucial. We specialize in many types of commercial roofing, including:
What Can Wear Down The Reliability Of Your Commercial Roof?
Why invest in your commercial roof? Many people don't realize how important a functional roof is until it takes damage. Flat commercial roofs are often overlooked, since they aren't immediately visible.
Our Atlanta commercial roofing contractors can assess the condition of your roof and work with you to find the best solution for your property.
Some factor that influence the longevity of your roof include:
Environmental Exposure
Long and short-term exposure to the elements, air pollutants, and chemicals can affect the life of your roof.
Structural Changes
Structural changes, like construction, may not be accommodated by the existing roofing system.

Standing Water
Without proper drainage, standing water can lead to harmful vegetation growth and algae on your roof.

Forgetting Regular Maintenance
Ignoring small roofing issues can turn into major problems. Getting regular check-ins with your Atlanta commercial roofing contractors can extend the life of your roof.

Change In Building Use
Many commercial properties undergo changes depending on the current tenant's activities. Factors such as increased interior humidity can cause severe condensation problems.

Our Greater Atlanta Commercial Roofing Services
Whether you are a small business owner, a property manager, a caretaker at a house of worship, or a realtor, we have the skills and ability to tackle your project.
We've helped all sorts of Atlanta-area industries upgrade their roofing systems, including businesses in the healthcare, agriculture, shopping, government facilities, and industrial sectors.
Roof it Forward is an Owens Corning Platinum Preferred Contractor. This mark of excellence is only bestowed upon 1% of roofing companies nationwide.
As an Owens Corning Platinum Preferred Contractor, Roof It Forward provides an unsurpassed level of expertise with the best warranty in the industry.
Here are some of the commercial roofing services we offer in the Atlanta area:
Roof inspections
Roof replacement
Waterproofing
Reroofing
Flashing repair & replacement
Low-slope & sloped roof expertise
All roofing materials & treatments available
Why Choose Us As Your Atlanta Commercial Roofing Company?
Every community has plenty of roofing contractors. We want to earn your commercial roofing business the old-fashioned way — by exceeding your expectations for responsive, top-quality service.
Why worry about roofing? In far too many cases, a roof doesn't get any attention until water begins leaking into the building. This is especially true with roofs of commercial buildings, where flat roofs and parapet walls truly put roofing issues out of sight and (thus) out of mind.
Here's what you can count on when you call on Roof It Forward:
Courteous, professional service. At Roof It Forward, we recognize that your commercial property is a valued asset that plays a major role in your business success. Our pledge is to always respond quickly to your commercial roofing needs and to deliver the best value and highest quality every time.

Well-trained workers. We recruit conscientious, dedicated team members, train them well, and make sure they have the skills to do top-quality work. Whether you need repairs on an old-fashioned built-up roof, a new single-ply TPO roof, polyurethane foam roofing, or anything in between. We have the access and know-how to coordinate with strategic partners such as A/C contractors that might also be needed for a project.
Excellent equipment. We are constantly updating our tools and other equipment to ensure that every crew can work safely, efficiently, and to top industry standards.

Evolving standards. We are constantly adapting to new guidelines within the commercial industry through continuing education and safety courses.

Access to the best roofing materials. We deal with major building material manufacturers to make sure we have access to the best roofing products at competitive prices.
Get Your Free Atlanta Commercial Roofing Estimate Now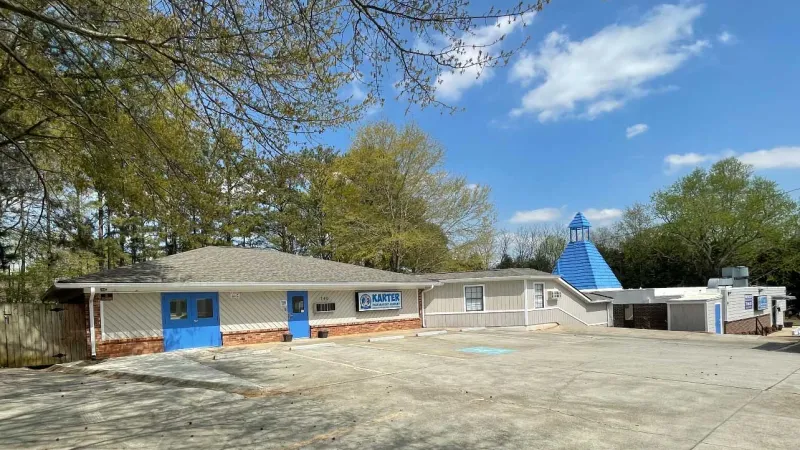 Atlanta
Office Information
296 Bell Park Dr
Woodstock, GA 30188
770-675-7650