Commercial
Coating Systems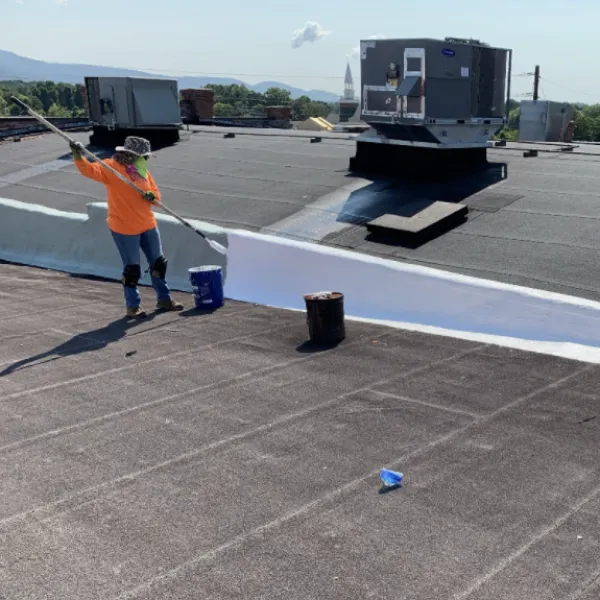 Liquid Applied Roofing Solutions
Liquid Applied Roofing Solutions can extend the life of your commercial roof by eliminating the many potential failure points that come from low sloped roofing systems. Liquid applied roofing can also add solar reflectivity to dark-colored roofs, increasing LEED® points and energy savings, while decreasing environmental impact.
These roofing systems are seamless, self flashed systems that fully adhere to the structure's current roof. The system begins with a foundation coat, followed by a mesh membrane. Then it is sealed with a topcoat to create a system that protects and preserves the strength of the roof while eliminating leak points like drains, AC curbs, laps, seams, fasteners, parapets, transitions, expansion joints, and skylights.
From solid silicone to acrylic coating, these products can be applied to surfaces like metal roofing, patios, TPO, and modified bitumen. Products also come in a wide range of colors allowing your roofing system to not only be reliable but fully integrated with the exterior aesthetic of your structure.

Get In Touch With Your Professional Contractor
Liquid Applied Roofing Benefits at a Glance:
No tearing off of existing roofing material
No building closure or stop of business during installation

No heavy solvents

Limited heavy equipment

ARAC Roof It Forward prides itself on delivering excellent quality products while maintaining the highest level of customer service. Each project aims to maintain a safe work environment through a safety plan and full scope of work presented after a site inspection.

Proudly Serving Seven Metropolitan Areas