Low Slope Replacement
ARAC Roof It Forward offers low slope roof repair and maintenance and low slope roof installations for commercial, industrial, and residential customers. We have an experienced team of Consultants and Technicians who can help you select the right type of roof or repairs for your residential or commercial building.

It's not easy to decide what type of low-slope roof is best for your building. Some low slope roofing treatments are equally suitable for new construction or re-roofing applications, while others are not. Some low slope roofing materials offer advantages in large-scale commercial projects, but cause problems on smaller residential roofs. Energy performance, maintenance requirements, and installation costs are other factors when choosing a low-slope roofing material.

Get your free video roofing inspection and estimate from the expert contractors in residential and commercial flat roofing.
How We Replace a Low Slope Roof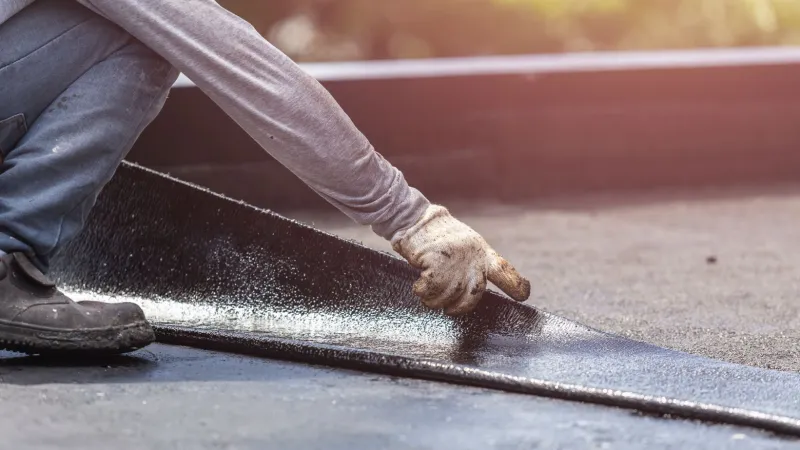 Upgrading your roof is an investment in your property. But without proper installation, even the most advanced roofing material will fail to meet your expectations. Hiring an expert in flat roofing will help you get the most out of your investment.
Old school roofing can't compete with the lightweight durability of modern roofing. Before we can install your low sloop roof, we need to remove your original roofing. Once this has been taken care of, we can begin installing your low slope roof.
There are many types of low-slope roofs, and each requires a unique installation plan. During your free estimate, a Technician can walk you through our options and find the best roofing material for your budget.

What Are The Benefits of a Low Slope Roof
Choosing a low slope roof has benefits, including energy bill savings, and more! Our customers love these advantages of a low slope roof.
Access and Maintenance
When a flat roof needs repairs or resurfacing, it is much safer for a Technician to access the roof. A Technician can use a ladder to quickly access the roof. Tasks like checking siding, cleaning gutters, or patching holes become quicker and less of a headache.
Energy Efficiency and Space Saving
Flat roofs can minimize the amount of heat and cold that escapes from your roof and prevent your HVAC system from working overtime. When space is at a premium, a flat roof can help free up more horizontal space and improve your structure's stability. Many people convert flat roofs into outdoor recreational spaces.
Cost-friendly
Flat roof installations provide safer working conditions than a pitched roof. Over a flat roof's lifetime, in ideal circumstances, they experience fewer damages and repair needs. And the materials are cheaper since you do not have to worry about a flat roof harming your property's curb appeal.
Types of Low Slope Roofs
ARAC Roof It Forward offers several flat roof options for your residential or commercial building.
Signs Your Low Slope Roof Needs Replacement
Roofing replacement needs differ from property to property. Things like weather, sunlight and other conditions may affect the roof's longevity. While it is difficult to provide an exact deadline for your roof replacement, it is always a smart idea to have a roof inspected regularly. After ten years of use, it may be time to start thinking about replacement. However, some roof types can last up to 30 years and more.
Proper maintenance can slow the deterioration of a low-slope roof. If your roof is not properly draining water off the roof, it may be time to replace your roof. Other signs include
Development of holes and leaks. You may be able to diagnose these by noticing discolorations in the ceiling
The disintegration of large roof panels
Build up moisture under your roof
A fluttering sound caused by strong winds
What Are The Steps For Filing a Roof Replacement Insurance Claim?
The Restoration Consultants at ARAC Roof It Forward have helped many of our customers with the complicated insurance process and paperwork. They are eager to help you get the ball rolling on their claim.
Your Roofing Consultant will guide every step of your journey, including communicating with your insurance. Schedule a free video roof inspection and estimate now!
Here are the steps involved in filing a claim
Get your free home visit and video roof inspection from ARAC Roof it Forward. During this visit, our Technician will evaluate your needs and examine your roof.
If the Technician finds evidence that damage from storms has harmed your property, then they will recommend filing an insurance claim.
An ARAC Roof It Forward representative will schedule a time to meet an insurance adjuster at your property. The representative will review their findings with the adjuster.
Insurance adjusters use software like Xactimate to determine the total cost of a job. We deliver an Xactimate estimate to your insurance adjuster.
This estimate includes the scope of repair and budget. While the insurance company usually covers the majority of the cost, expenses like the deductible and any additional upgrades will come out of your pocket.
After your adjuster finalizes your settlement, we can begin our work. We will find the time for you to come in and learn about our many product options and available colors.
Next, we schedule a convenient time to start your project.
We will file all of the complicated paperwork with your mortgage and insurance company. Once they receive these materials, they will release your payment.
If your claim does not meet the requirements for roof replacement — or if you want to bypass your insurance carrier — our Consultants will gladly provide you with a competitive retail price for your roof.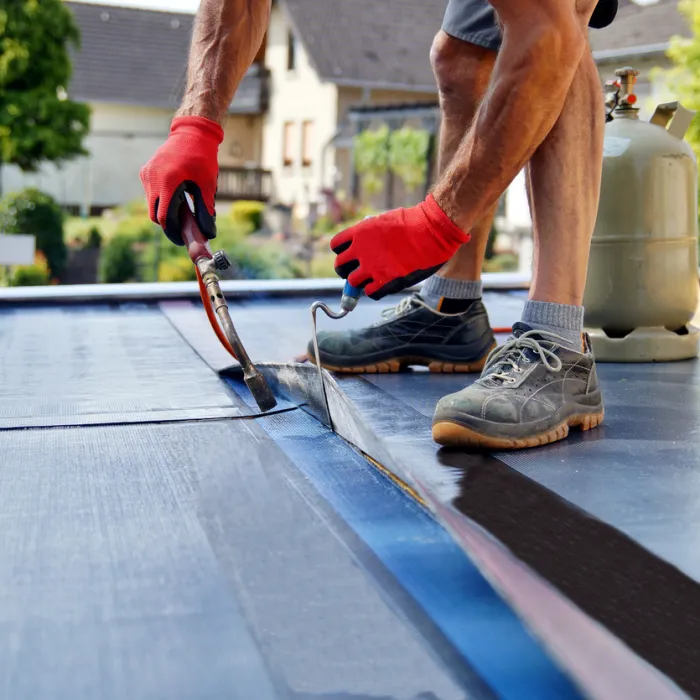 How Long Does it Take To Replace a Low Slope Roof?
Many factors can influence the length of your replacement. First of all, there is no exact timeline for how long your insurance company will take to evaluate your claim. Once we have given them our estimate, the claim is out of our hands. Depending on your insurance company, it may take a while to determine your coverage.
Once your claim is approved, other considerations, such as your property's size, will also affect the length of your installation. For example, smaller homes can take one day, but bigger jobs may require more time. Inclement weather can push back the timeline as well. That said, a low-slope roof job can take two to three days to complete.
Chat with a Low Slope Roofing Professional Today
There are many options for your low-slope roof. It's easy to feel lost and confused in types of materials and applications. Every roof requires a unique treatment. Our flat roofing Consultants and Technicians are here to help you find the best option for your budget and needs.
We are proud to offer complete low-slope roof replacement and repair. Get your free estimate and video roof inspection from ARAC Roof it Forward. Discover why so many people trust our expertise and knowledge. Fill out the contact form below to get started.