Cedar Shake Installation Services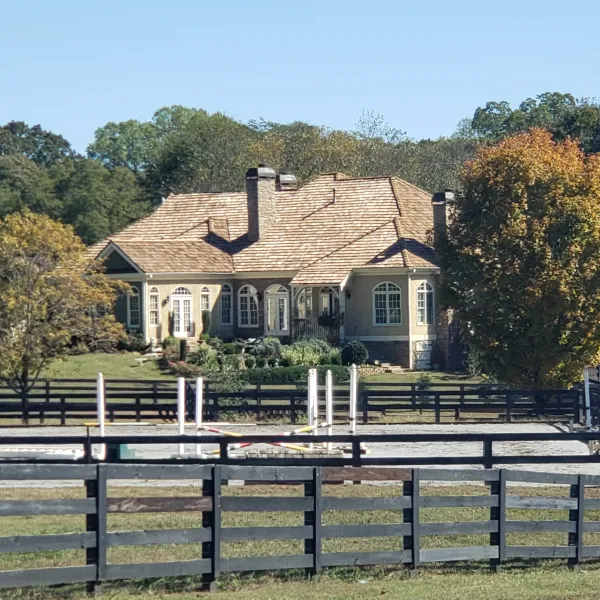 Cedar shake is a durable and traditional option for your home. For centuries people have relied on cedar shake to protect their homes. Cedar shake has a stunning rustic charm that boosts your home's curb appeal.
Roof it Forward specializes in start-to-finish cedar shake installation and maintenance. Our team of local cedar shake experts provides the utmost level of service and quality for you.
We are available 24/7 to talk about your cedar shake roofing needs. Get started now by calling us at (888) 411-9310 to set up your free video roofing inspection.
What Are Cedar Shakes?

Cedar shake are a historic and tried-and-true method of roofing. Homeowners love that this roofing product uses nature's power to safeguard their homes. Cedar shake is made from logs harvested from North American forests. These logs are hand-shaped into the distinctive appearance of cedar shake.

Benefits of Cedar Shake
There is a reason why Cedar Shake roofs have been around for so long. Here are some of the reasons why homeowners choose the dependability of cedar shake.

Durable Construction
The Western red cedar is one of the strongest woods in the world. Cedar shake can stand up to almost everything that nature can throw at them, including hail, fire, wind, and extreme weather. Additionally, cedarwood has a very low shrinkage rate. That means it installs easily and tends to hold nails very tightly over time.
Resists Damage
Cedar contains natural preservatives that resist insects and moisture, which are some of the greatest enemies of a wooden roofing product. Because cedar resists moisture, it is less likely to decay and can be used in different climates throughout the country.
Beautiful Design
Cedar shakes are a popular choice, in part, because of the distinctive look that the wood provides. When they are first installed, cedar shake has a honey or cinnamon hue. Over time, that transforms into a silvery gray that many homeowners find equally attractive.
Longevity
If installed properly, cedar shakes can last for up to 40 years. Not only do cedar shakes resist moisture and insects, but cedarwood also has a natural preservative that helps to block out the UV rays of the sun. Additionally, many manufacturers coat cedar shakes with a fire-resistant protectant.
Environmentally friendly
Cedar shake are salvaged from logs that would be left on the forest floor because they are not usable for other uses. Harvesting these logs allows for a more environmentally-friendly application of cedar shake.
3 Main Types of Cedar Shake
While there is a near-limitless amount of cedar shake, they are divided into three reliable options:
Certi-Split® Shake
Certi-Split® Shake are split by hand and have rough edges, which provide a handmade, artisan look.
Certi-Sawn® Shake
Certi-Sawn® Shake are contoured on both sides, which adds an angular dimension to the shingle.
Certigrade®
Certigrade® are a premium roof material with a defined appearance that enhances any home's curb appeal. Roof It Forward offers many superior options for your roof.
Cedar Shake Cleaning and Maintenance
Cedar shake roofs are known for their long life span. However, you will need to schedule regular maintenance to get the most out of your cedar shake. Removal of debris and chemical treatment will help preserve your roof.

Professional Cedar Shake Installation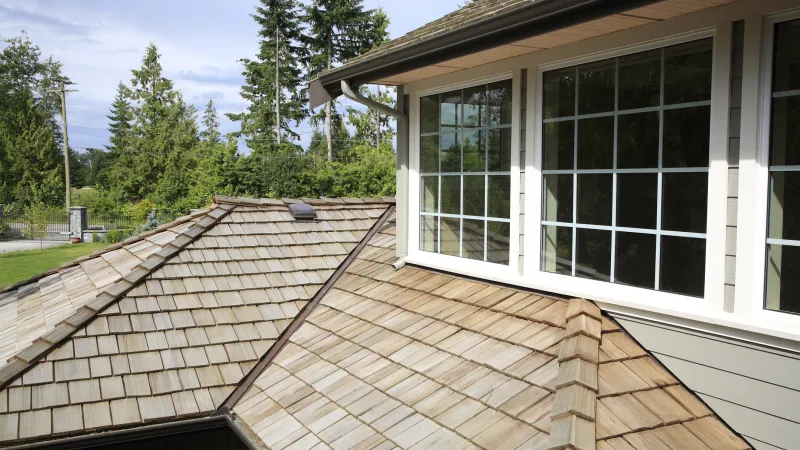 Cedar shake roofs are a unique option that many people rely on to protect their homes. Only an expert can provide you with quality installation for your cedar shake roof. When you choose Roof It Forward for your cedar shake roofing, you know you are getting unmatched expertise from professionals who will be there with you every step of the way.

Get started by contacting our cedar shake roofing professionals now! We are available 24/7 at (888) 411-9310 to talk about your needs. We can't wait to learn more about your next project.