The Issue:
If you are hearing what sounds like water dripping into a pan or see stains on the ceiling to the left and or right of the chimney, then you most likely need a chimney repair. These issues are common once the water begins to rot the decking around the chimney. The seepage that penetrates the decking will then begin to rot out the chimney box.

Non-Roof installation-related Issues:
It is important to understand that not all chimney leaks are caused by a faulty roof installation. A chimney cap is sometimes the reason for the issue. Especially when the storm collar sealant is bad or rusted out. Sometimes, we find that a brick chimney doesn't have one at all. Another common issue pertains to chimneys with siding. When proper caulking isn't maintained, leaks can occur which are caused by the trim boards that become separated from the siding which gives water access. Finally, stone sided chimneys can sustain a leak as well due to mortar issues. This is the value that we offer when it comes to chimney leak issues. If it is roof related, we can have one of our technicians onsite quickly. If it is chimney related, we have a select list of chimney companies that provide repairs that we'd be happy to provide.

Get In Touch With Your Professional Contractor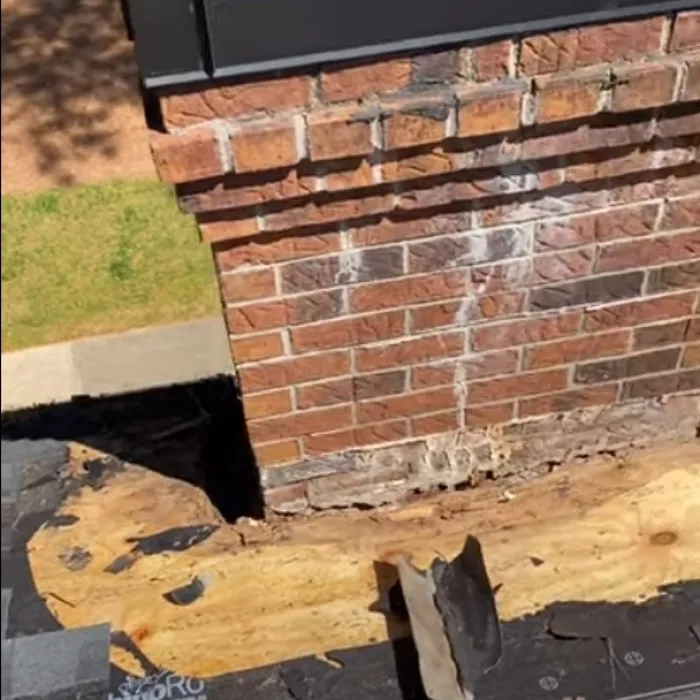 Solution:
We offer a free video roof inspection to help diagnose the problem. For starters, we confirm that the chimney is up to code. One of the most common reasons for chimney leaks is caused by the absence of a cricket. A chimney cricket is vital in diverting water! If one is missing, we can install it. In addition, we also install kick-out flashing on all four corners, if possible, and new step flashing or counter flashing if needed. Overall, we have a lot of experience in helping customers understand and solve chimney leak issues.
Watch our video showing damage from a chimney not having a cricket
Proudly Serving Seven Metropolitan Areas