Asphalt Shingles
Asphalt shingles are a tough, affordable, and aesthetically-pleasing roofing material for your property. We offer many varieties and of colors of asphalt roofing, with options that safeguard your investment from water and sun damage.

Find out more about why asphalt shingles are a favorite of homeowners and roofing companies. Our expert asphalt roofing contractors are knowledgeable in all aspects of asphalt roofing. Schedule a free video roof inspection with one of our Restoration Consultants to get started.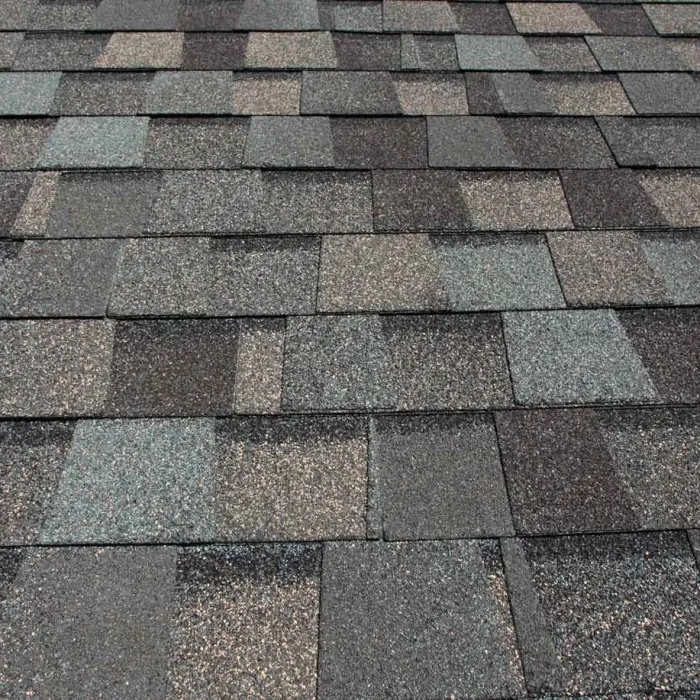 Benefits of Asphalt Shingles
Asphalt shingles — also called composite or composition shingles — combine materials like fiberglass, asphalt, cellulose mat, and mineral granules to create a tough roofing material. They provide a different level of protection than other shingle material like wood or clay.
Asphalt shingles provide an unmatched level of versatility and utility. For starters, they are the most cost-effective roofing material available, and with regular maintenance, you can expect them to last up to up to 20 years, on average.
Asphalt shingles come in an almost endless variety of customizable options to fit your project. Through a Total Roofing Protection System by Owens Corning, we can install your shingles to:
Get a tight waterproof and seal

Reduce your roof temperature and lower your electricity bill

Provide protection during unexpected weather like hail storms and hurricane-level wind gusts.

Stop roof discoloration, staining, and streaks with an algae-resistant coating

Block fire damage with fireproof coatings
Types of Asphalt Shingles
Roof It Forward is proud to offer three-tab and architectural shingles for your project. Each shingle option lets you boost your property's longevity and value.
Three-tab Shingles
Three-tab shingles are a lightweight option that comes in one thickness. Their name comes from how the shingles are cut with three tabs.
Three-tab shingles are a tried-and-true roofing material that uses a single layer of asphalt for a project. Property owners will enjoy their blend of a reasonable price tag, versatility, and undeniable curb appeal.
Architectural Shingles
Architectural shingles — sometimes called high dimensional or laminate shingles — offer an outstanding durability and protection level. They are heavier and provide a more dimensional appearance.
Their varied size lets you enjoy higher hazard ratings (fire, wind, and weather) and longer roof warranties. Some of these shingles are engineered to match the look of natural or slate roofing.

Owens Corning Shingles
Owens Corning shingles are the gold standard of roofing materials. These shingles offer total protection for your roof. Their superior look can also enhance the look of your roof. Only Owens Corning Preferred Contractors — like Roof it Forward — have full access to these premium shingles and can offer extended warranty options that most roofing companies can't.
An Owens Corning Total Warranty is one of the best investments you can make for your property. Plus, our Roofing Consultants can help you register, transfer, or file a claim.
Get The Best Asphalt Shingle Installation with Roof it Forward
Asphalt shingles offer a high level of quality and durability. Whether you're looking for three-tab, architectural, or Owens Corning Shingles, our Roofing Consultants can help you find the best material for your project.
Get started with a professional roofing contractor now. Schedule your free video roof inspection and estimate now. You can call us or fill out the contact form below. Let the asphalt roofing experts at Roof It Forward help you with your next project.