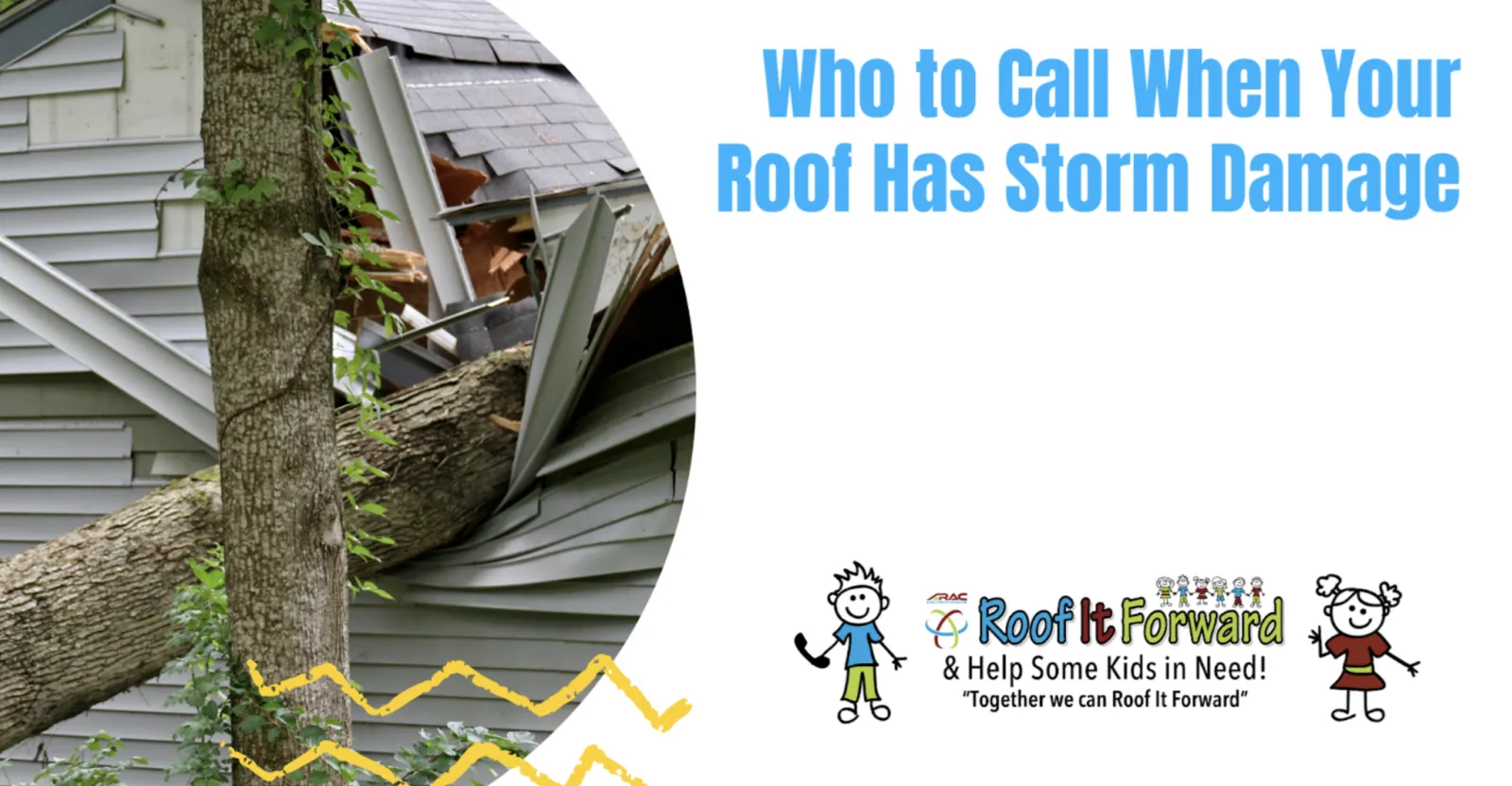 The first step when deciding who to call when your roof has storm damage is to contact a trusted roofing company to verify the damage to your property. If warranted, then you should call your insurance company. Your home insurance company is there for you in these situations. File a claim as soon as you can. After you file a claim, an adjuster will schedule an appointment with you to inspect the damage that has happened to your roof and home. It can take a few days to get contacted by an adjuster, so sit tight.
Many roofing companies offer emergency services to address extreme damage. For example, if you have a massive hole in your roof from a tree or limb, or exposed decking from missing shingles, your contractor could assess the damage and begin the repair process. In the meantime, you can discuss your coverage details with your insurance company.
Roof It Forward is a trusted and high-quality roofing company that can work with insurance companies to repair any storm damage that has happened to your roof. Schedule a free video roof inspection with us today.
How do Roofing Companies Work with Insurance Companies
If your roof has storm damage, Roof It Forward will work quickly to get your roof back in shape. We can tarp your roof to prevent any additional damage and begin working on the repair process. If there is extensive damage, we can walk you through the insurance claim process and meet with an adjuster to review our findings.

Why Your Roofing Contractor Should Meet With Your Insurance Adjuster
A significant portion of how roofing companies work with insurance companies is by meeting with your insurance adjuster. A roofing contractor can act as your advocate with an insurance adjuster. The roofing contractor will know what repairs need to be made to restore your roof to mint condition. Our roofing professionals at Roof It Forward will be able to inspect your roof, identify what repairs are needed, and meet with your insurance adjuster to address what exactly needs to be fixed and how much it will cost.
The Storm Damage Repair Process
Schedule a Free Video Roof Inspection with Roof It Forward Our roofing professionals will be able to evaluate the storm damage that happened to your roof and provide an estimate on the cost of those repairs.

You File a Claim with Your Home Insurance Company

Meet with the Insurance Adjuster When your insurance adjuster comes to evaluate the damage, our roofing professionals can also meet with them to walk them through the damages and the cost associated with it.

Scope of Work After picking your products and colors, we will schedule your job at your convenience and keep you updated throughout the process.

Submit Paperwork To Your Insurance Company Once all work is completed, we will submit all the necessary paperwork to your insurance company.
Get Support From An Expert Advisor At Roof It Forward
Storm damage to your roof needs to be addressed immediately to prevent any further damage to your roof and home. Our professionals at Roof It Forward can help you navigate the process of working with your insurance company. It's important to have an experienced and trustworthy roofing company on your side every step of the way. We can handle each piece of the process from start to finish so you can focus on keeping yourself and your family safe. Give us a call today to schedule your free video roof inspection with Roof It Forward.