Birmingham
Gutters & Downspouts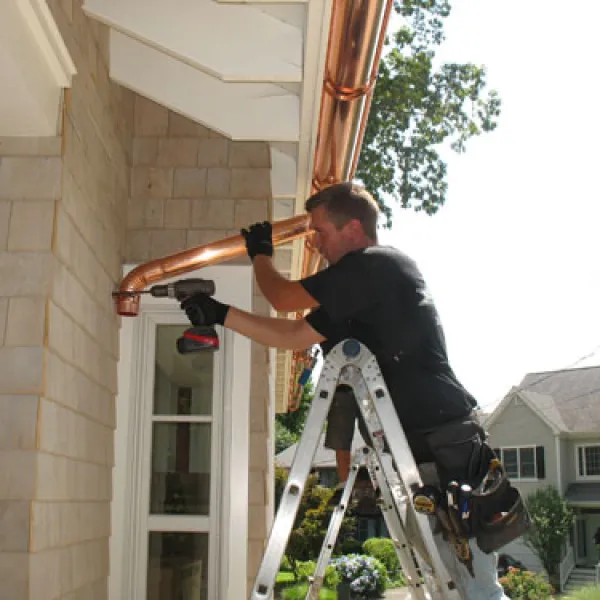 Birmingham Gutter & Downspout Installation
Durable gutters to keep water away from your home
Gutters and downspouts are often overlooked by homeowners - as long as they're still attached to the roof and are cleaned out occasionally, they should be doing their job, right? Unfortunately, several other aspects of your gutters and downspouts might mean sub-optimal water drainage for your property, which can lead to further problems.

ARAC Roof It Forward specializes in gutter installation along with our Gutter Guard system to keep excess debris out of your gutters. We only use top-quality products installed by professionals to ensure that your gutters aren't causing more problems than they're solving.

We offer our gutter services to homeowners throughout Birmingham and nearby - contact us today to schedule a free estimate!

Get In Touch With Your Professional Contractor
Potential gutter problems and their consequences
Even homes with gutters and downspouts can suffer extensive water damage. How?

Gutters clogged with debris can overflow, sending water everywhere and defeating the point of having gutters in the first place. Additionally, improperly-pitched downspouts can cause water drainage too close to the home, causing soil erosion and potential basement and foundation leaks.

Finally, old, dented gutters can cause aesthetic as well as functional issues. Your home won't look as nice with these gutters around your home, negatively affecting its appearance and potentially even its value.

Factors to consider when choosing gutters

Materials
Color

Style

Size

Gutter guards

The best materials for new gutters & downspouts
Because older gutters and downspouts can be difficult and costly to repair, many homeowners elect to replace old with new. When doing so, homeowners have to pick the material that best suits their budget and style needs.

Historically, gutters have been made from many different materials, including wood, steel, copper and seamless aluminum gutters. Aluminum gutters are most popular today because of their affordability, durability and color variety. These gutters can easily be custom made to fit to your home right off of an installation truck. However, some historic homes may deserve steel, copper gutters or even wood gutters to maintain their authentic appearance.

Rely on professional gutter installers
If you're ready to get started on your home's gutter needs, call in the experts at ARAC Roof It Forward! We promise fast, effective installations and gutters that perfectly compliment your home. We can also spot related problems such as damaged flashing or rotted fascia boards that require replacement, meaning we won't let any other problems escalate.

ARAC Roof It Forward offers free estimates for all of our services, including gutters. Call us at 770-675-7650 or contact us online for your gutter needs, and ensure your home's protection from water damage for years to come. We serve residents of Birmingham and areas nearby.

Birmingham
Office Information
10091 Blue Ridge Drive
Blue Ridge, GA 30513
706-946-7663