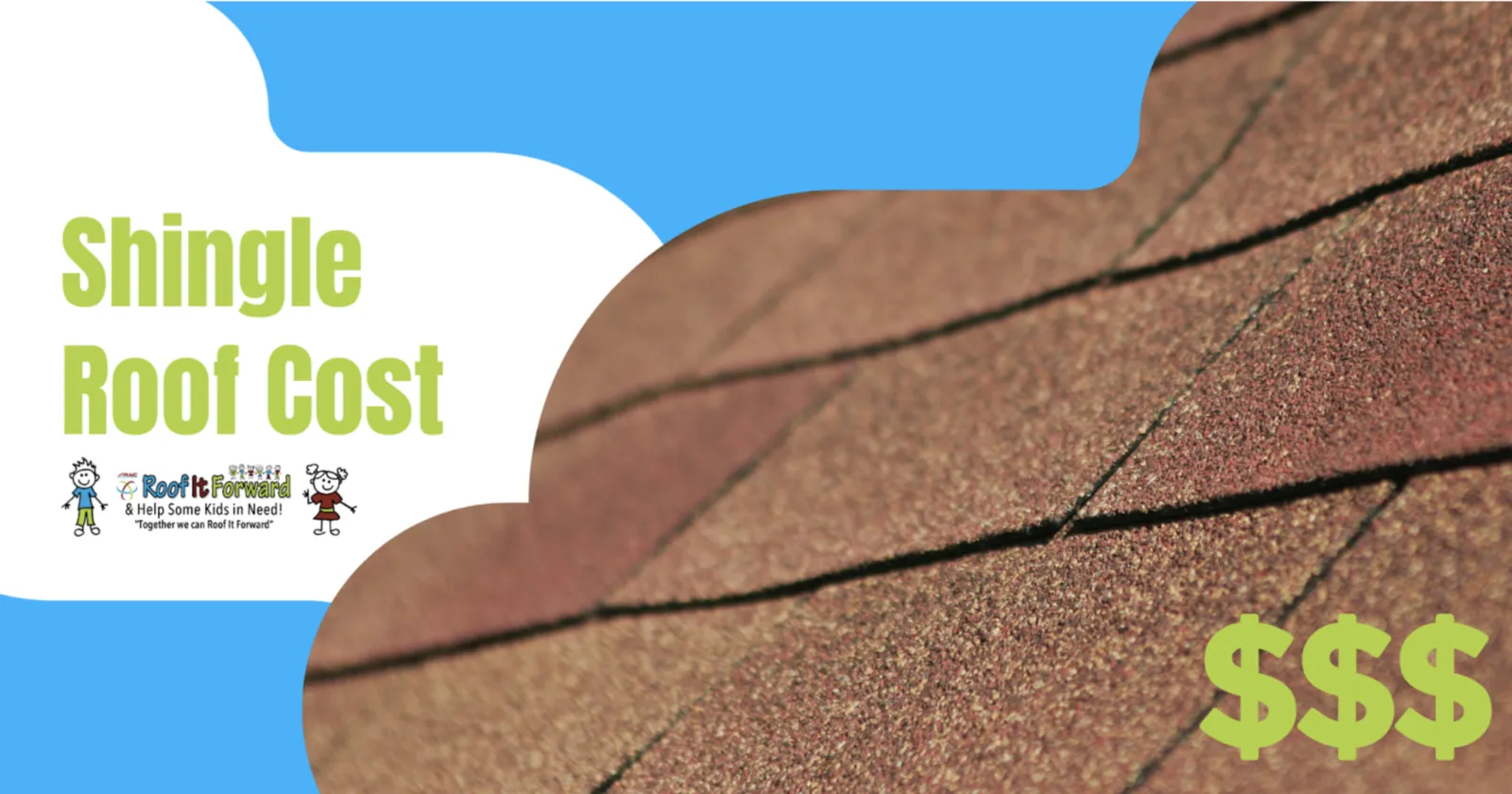 Shingles are an essential piece of protecting your roof and your home. They also serve as a strong exterior statement for curb appeal. Shingles are installed in an overlapping pattern to provide the ultimate protection for the plywood, waterproofing layer, and additional materials that make up your roof. Shingles are a popular roofing material since they are effective, appealing, and can be repaired in pieces if need be. If you're looking at repairing your roof or a total roof replacement, continue reading to learn about the cost of roof shingles.
The average material cost of shingles for a whole roof is $8,000 to $9,000. This is the cost for asphalt shingles, which are the most popular. The other types of shingles cost more, including clay, wood, composite, or metal. The shape and size of your roof can affect the cost of shingle replacement. Some of these complications are complex roof shapes, skylights, many vents, and steep pitches. There are other additional costs such as insulation, underlayment, and decking.
Shingle Roof Cost
By Material
Asphalt/Composite
Shingles Cost
:
Asphalt/Composition Architectural Shingles: Per 100 square feet: $100-$150

Asphalt is also known as composition. Architectural shingles are more durable and have a more sculpted appearance with an extra layer of lamination. This type of shingle is not the best choice for shallow roofs since wind cannot flow through them as easily. Asphalt shingles can last anywhere between 15 and 30 years depending on your area's climate, quality of materials, regular maintenance, and more.

Asphalt/Composition 3 Tab Cost: Per 100 square feet: $100

Asphalt three tab shingles are a popular choice since they are very cost-effective. These types of shingles get their name from the three cut outs in the bottom half. This provides a higher level of protection to your roof and home compared to other shingles. With regular maintenance, they can last up to 20 years.
Metal
Shingles Cost
:
Per 100 square feet: $300-$1,800
The cost varies for metal roofs because it is dependent on the type of metal. Metal shingles provide you with many colors to choose from. Metal roofing is more expensive than asphalt shingles but can last three to four times longer than asphalt roofs. These types of roofs can also increase the value of your home and protect against storms & hail.
3D/Dimensional
Shingles Cost
:
Per 100 square feet: $480
3D/Dimensional roofing is created from asphalt and fiberglass with a ceramic coating with mineral granules. These materials and several layers create a tight and water-resistant seal for your roof. Dimensional shingles are sculpted similarly to wood shakes, which is what makes them different from regular asphalt and three tab shingles. They were created in the 1970s to satisfy the demand for appealing shingles similar to the design of wood shakes but with the performance of asphalt.
Owens Corning
Shingles Cost
:
Per 100 square feet: $77-$215
Owens Corning shingles set the standard for durable and appealing roofs. They can provide excellent protection for your roof and home with great curb appeal. A few advantages of Owens Corning shingles are lifetime platinum protection warranties, wind resistance up to 130 MPH, and 10 years of algae resistance.
Cedar Shake and Wood
Shingles Cost
:
Per 100 square feet: $480
Most wood shingles are made from pine, cedar, and spruce to provide the rustic aesthetic to a home. Wood shingles can have a long life if they are properly maintained, especially being treated to prevent rot. These shingles can develop cracks, grow algae, deteriorate, and develop leaks if not taken care of. To prevent these problems from happening, wood preservative needs to be applied every two to five years.
Clay Tile Cost:
Per 100 square feet: $800-$1,800
Clay shingles are attractive, durable, and fire resistant. They are very popular in warm & sunny climates since they can withstand the heat. Clay shingle roofs can be heavy so your home could require reinforcement if it is not built to withstand the weight.
Natural Slate Tile Cost:
Per 100 square feet: $800-$1,800
Slate is one of the most durable roofing materials. If it is high quality and properly maintained, it can last for hundreds of years. However, it should only be used on homes that have been built or reinforced to carry the weight of a slate roof. If you have a home that can manage a slate roof, it can easily be repaired one tile at a time if there is ever any damage.


Solar
Shingles Cost
:
Per 100 square feet: $2,200
If you're interested in powering your home with renewable energy, a solar roof could be a great option. Solar shingles mimic solar panels by generating power from the sun but look like regular shingles. This technology can be integrated onto roofs that have standard asphalt shingles if you still have a roof in good condition.


Shingles Installation Costs
For a total installation cost you need to consider the material and labor costs. Labor costs can be up to 60% of the total installation cost. Roof installations are a laborious task since in most cases the workers need to tear off and dispose of old shingles and underlayment. The hourly rate for each roofer can run anywhere from $30 an hour to $80 an hour. This rate varies depending on the experience of the roofers, your location, the pitches in your roof, the type of material, and the quality of their work.
DIY Shingle Installation
After seeing the costs of a professional roof replacement, you may be thinking that you could manage to do it yourself. Tackling a whole roof replacement should be left to professionals. It is a very difficult project to take on without experience. Without training, you could end up installing shingles incorrectly, leading to leaks, invalidation of the warranty, and structural damage. You can also easily get injured without the proper safety equipment and training.
When hiring a professional roofing company for your roof replacement, check their credentials. This entails reading online reviews, customer testimonials, checking their license, bond, insurance, and warranty of work. You want to make sure that you choose the best roofing company for your repairs and replacements.
Schedule a Free Shingle Roof Estimate with Roof It Forward
It's important to be prepared for when your roof eventually needs to be replaced. Here at ARAC Roof It Forward, we have a streamlined process for roof replacements, giving you peace of mind. If you spot any damage on your roof or know your roof is getting older, contact us today to schedule a free roof inspection with Roof It Forward. We can provide a free estimate for any repairs or replacements that need to be made.