ARAC Roof It Forward Spray Foam and Smart Foam Wall Foam Insulation®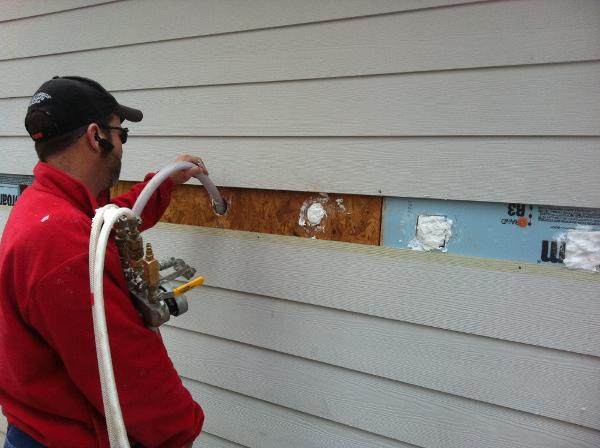 Smart Foam Wall Foam Insulation® is one of the best ways to keep your home insulated in areas where other types of foam, like Uf, aren't allowed.
ARAC Roof It Forward provides spray foam insulation to make GA homes more energy efficient. Products we use provide superior thermal performance, driven by innovative minds and premium quality components.
What Spray Foam Insulation Can Do For You!
Inhibits mold growth
Stops air and moisture
Makes your home more comfortable
Saves energy costs - highest R-value per inch
Permanent and will not sag
Keeps out rodents, bugs, dust and pollen
Reduces maintenance and wear of HVAC equipment
The average household spends over 40% of its energy budget on cooling and heating costs each year. A lot of that budget goes to heating and cooling air escaping through windows, doors, cracks and crevices. Our goal is to save you roughly 25% to 45% on your GA home energy bills.
Spray foam insulation is a great product because it seals a home by expanding to fill walls, crawls, attics and exposed cracks and crevices. This is one of the best thermal insulation methods available. Contact us today to schedule your free estimate!
Smart Foam Wall Foam Insulation®
Here at ARAC Roof It Forward we also provide ciFOAM's Smart Foam Wall Foam Insulation®. This type of foam insulation uses a melamine hybrid resin to provide excellent insulation. This type of foam is also extremely versatile and can be used for retrofit application and new block construction. It's particularly useful for markets where other foam types, notably UF foam, are restricted or prohibited.
Smart Foam Wall Foam Insulation® is:
Approved by the California Department of Consumer Affairs
Is considered a Class 1/Class A fire rated product. It meets all current building codes' testing requirements.
Keep the air and extra money in your pocket. We provide spray foam insulation and Smart Foam Wall Foam Insulation® services throughout Georgia, including Acworth, Kennesaw, Marietta.
Interested in quality insulation services? For an Insulation Estimate and Inspection, call or contact us online.
Looking for a price? Get a no cost, no obligation free estimate.