Asphalt, Slate and Wood Shingle Roofing For Your Property!
After deciding to get a roof replacement, a homeowners' next challenge is deciding what type of roofing material they want for their home. Modern technology has continuously evolved the roofing industry and engineered many new roofing materials. We know it can be overwhelming to decide the best option for your home. That's why ARAC Roof It Forward is here to help you decide.
Shingle roofing is the most common and popular type of roofing, and there are different options within this category. Asphalt (also known as composite), slate, and wood are options for shingles in this category. Get your free replacement roofing estimate today!

What is A Shingle Roof?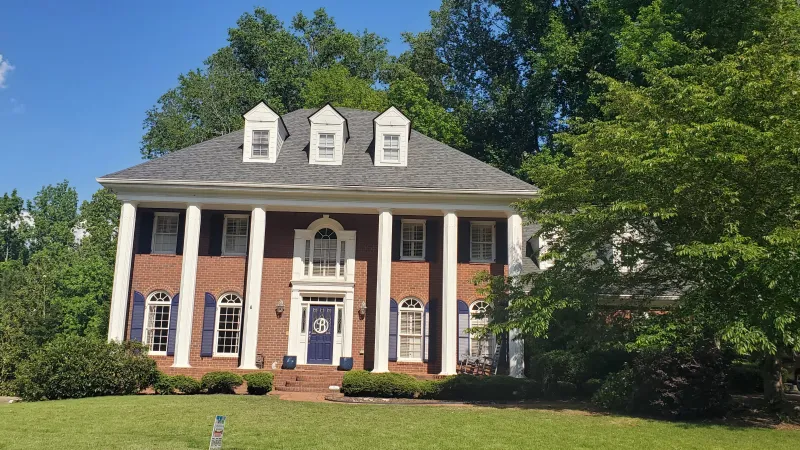 Shingles are material for pitched roofs. Roofing shingles are overlapping flat components that channel water away from the roof. They come in various materials like asphalt, fiber cement, plastic, metal, flagstone, slate, and wood.
While there are many types of shingles, most residences use asphalt shingles as roofing materials. Modern asphalt shingles are easy to repair and offer an unmatched level of versatility, durability, and affordability.
Roofs that are too flat may need another roofing application, other than shingles. The roofing professionals at ARAC Roof it Forward have years of experience helping people in your area find the best roofing solution for their needs and budget. Contact ARAC Roof It Forward today for a free estimate.

Types of Shingle Roofs
Shingle roofs come in a variety of materials. Each material has its own unique set of benefits and applications.
We offer asphalt, slate, and wood shingle options: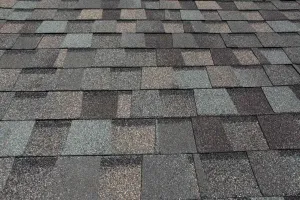 Asphalt Shingles
Asphalt shingles are the most common and popular residential roofing material. There are many types and colors of asphalt shingles. Many asphalt shingles meet Energy Star standards and can help you save money on costly power bills. Repairs with asphalt shingles are relatively cost-friendly and easy.
We offer both three-tab shingles and architectural shingles. Three-tab shingles come in one thickness and are lightweight at a lower cost. Architectural shingles come in various sizes that create a more dimensional appearance for your property and improve its value.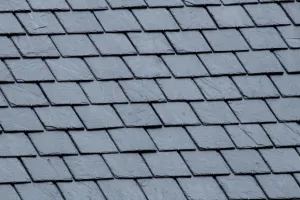 Slate Shingle Roof
Slate is one of the most durable and versatile roof materials. Slate shingles are rock panels cut into a shingle shape. When installed correctly, slate shingles have some of the highest water and damage resistance ratings, lasting anywhere from 80-100 years.
Because they are heavy, your structure may require additional support work before installation. They have a unique appearance, durability, and color options, including green, black, gray, and red.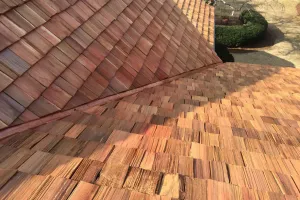 Wood Shingles
These shingles are made of tapered wood and provide a unique and rustic look to a structure. Wooden shingles provide consistent durability with a uniform appearance that can add a unique look to any structure. Varieties like cedar are resistant to insect damage.
These roofs can be costly to install and require regular maintenance. However, with proper upkeep, a wood shingle roof can last 40 years. Their classic appearance makes them a popular choice for historic homes and many other types of structures.
Ice & Water Barriers
Designed to protect the roof where water tends to collect, including valleys, vents, chimneys and skylights.
Underlayment
Underlayment products are the final line of defense between the home and the elements. Underlayment products help block water from the roof deck and out of the home to help prevent rot, mold, and water damage.
Starter Shingles
Their continuous sealant bead helps Defend against blow-offs and water infiltration in vulnerable areas of the roof.
Shingles
Shingles not only serve as the first layer of defense against the forces of nature, they also help define the character of the home. Shingles act as a star player in curb appeal for your customers, and Owens Corning Roofing offers a wide range of shapes, sizes, and color choices.
Hip & Ridge Shingles
Hip & Ridge shingles provide a finished look to the roof's peak while helping to Defend the ridge vent. We offer a full line of Hip & Ridge products that are compatible with all Owens Corning™ shingles.
Intake Ventilation
Intake vents, which are located at the down-slope edge of the roof (eaves), allow fresh air into the attic.
Exhaust Ventilation
Exhaust vents, which are located near or on the ridgeline of the roof, allow air to leave the attic.
What Are The Steps for Insurance Claims for Shingle Roof Replacement?
Our Restoration Consultants love walking customers through the insurance process. They will help you through every step of your replacement — including filing paperwork with your insurance provider — to ensure you have an enjoyable and smooth experience.
If your claim isn't approved — or if you decide against involving your insurance carrier — we will gladly provide you a competitive retail price. Our experts will give you a more thorough run-down of your potential costs during your free home estimate.

Here are the steps of filing for an insurance claim with ARAC Roof it Forward.
The process starts with a free video roof inspection and estimate with an ARAC Roof it Forward Technician. If storm damage has compromised your roof, they will recommend you file a claim.
An ARAC Roof It Forward representative will meet your insurance adjuster at your home. The representative will show the adjuster their findings.
Most adjusters use a software called Xactimate to determine a project's estimate. It is used to define the scope of work; we honor the adjuster's pricing.

We will start your project after the adjuster approves your claim. We will also negotiate the scope of work on the customer's behalf if needed.
While most funds generally come from the insurance company, the property owner is responsible for paying for the deductible and any applicable upgrades.
Then it's on to a selection meeting with ARAC Roof it Forward. During this meeting, we will choose the products and colors for your project.

After this, we schedule the work for a time that fits your schedule. We will be there throughout your project to make sure everything goes as planned.
Once we have finished your project, we submit all of the necessary paperwork to your insurance and mortgage company.
Once the insurance provider has signed off on your claim, they will release the remaining Depreciation funds as well as Supplemental funds when applicable.
How Long Does it Last?
Every variety of roofing shingle has a different material and a different lifespan. There are other things to take into account, such as inclement weather and climate, that can also affect a roof's lifespan:
With regular maintenance and ideal conditions (no major storms), premium asphalt roof shingles can provide a watertight seal that lasts for 30 years

A properly maintained slate roof can last 50-125 years and even longer. Some people claim that a slate roof can last up to 200 years

If a wood roof receives annual inspections — including routine replacing of warped or split shingles — it can last up to 40 years
30 years
Asphalt Shingles Roof
What Are The Benefits of Shingle Roofing?
Modern shingles are more versatile and durable than ever, with many of them having Class-A fire protection and energy-efficient ratings. A fresh roof keeps out the weather and the elements. Not only that, but a new roof has undeniable effects on your home's curb appeal and value.
But there are even more benefits to a shingle roof:

Streamlined installation process
Come in a variety of colors to match your home's style
Improved energy efficiency
Lower cost utility bills
Bacteria and mold prevention
Long-lasting protection for your property
Shingle Roof Replacement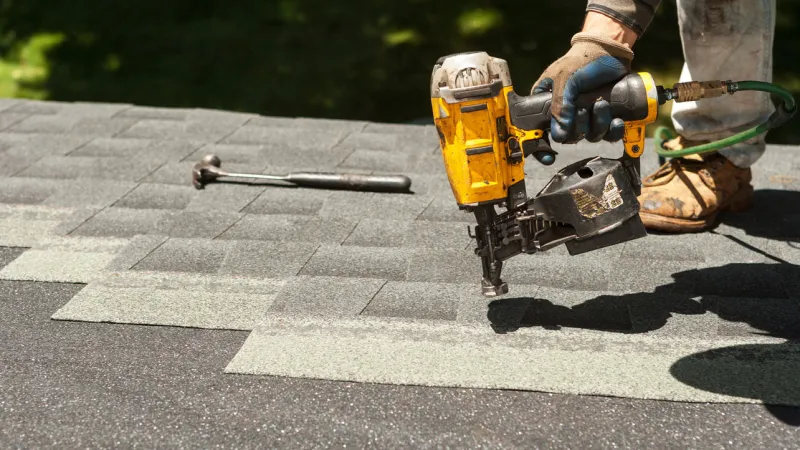 Eventually, an aging roof will need replacement, and you need to be ready when that time comes. ARAC Roof It Forward completes thousands of roof replacements each year and therefore has a very streamlined process from start to finish which makes the roof replacement process a lot easier. If your home is due for a new roof from the ravages of weather or time, call us today for a free video roof inspection.
Regardless of whether it is a roof repair or a full roof replacement, you can trust ARAC Roof It Forward as the experts to help. Get your free estimate today!

Contact Roof It Forward Today For Your Free Roof Inspection and Estimate
Call the professionals at ARAC Roof It Forward for your free video roof inspection and estimate now. You can also fill out the contact form below to get the ball rolling now. Discover more about how our team can help you with your home.
Proudly Serving Seven Metropolitan Areas